Li-Ion battery for the Dive Xtras Cuda 850 underwater scooter with Bluetooth 4.0 module for iOS and Android platform
---
Specs:
| Capacity | Energy | Max continuous discharge current | Weight |
| --- | --- | --- | --- |
| 41V 40.0Ah | 1600Wh | ~30A | ~13.1kg |
---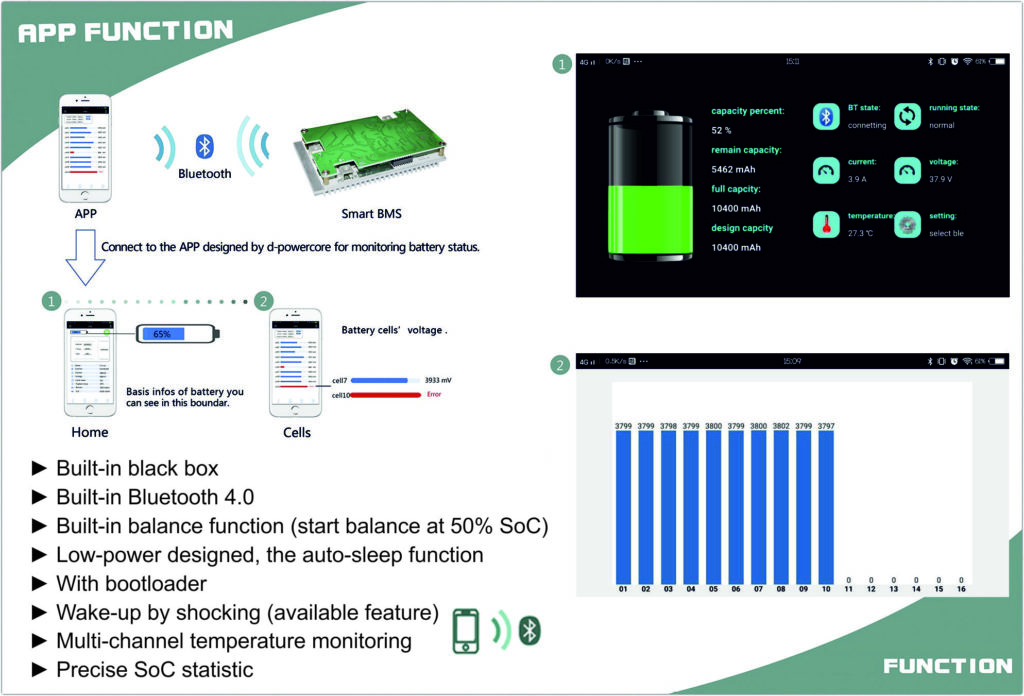 ---
Delivery time up to 15 business days
Note: the cell manufacturers specs are higher than our recommendations above. It will not harm the battery to occasionally discharge at higher levels than our recommendations, but regular, sustained high discharge rates will degrade the battery more quickly and the battery voltage will sag at these high power levels. The Battery BMS is programmed to trip if cell temperatures reach 60degC during discharge and 45degC during charging.
The above capacitance values are for new batteries – stored and used at room temperature, charged with electricity, in the order of 0.5C. Low temperatures as well as high discharge values can significantly affect the battery capacity. Please note that the capacity will degrade over time and use.
---
WARNING
Please carefully check what ESC (electronic speed controller) is mounted on scooter – New or Old version (photo below)
Old electronic may be overloaded with fully charged 12s battery (50.4V) and esc can generate some problems (the problem only occurs in some scooters). Also user need to avoid using full throttle with fully charged battery.
In that case (old electronic) battery with max 46.2V (11s) will work without any problem at the expense of Wh compered to 12s battery. Old electronic cut off battery in 35V.
This problem not exist with new electronic which handle 12s (50.4V) battery
| | |
| --- | --- |
| New ESC | Old ESC |
---
Other:
We recommend 4A charger (without fan) for capacity <29Ah or 5A (with fan) for capacity >30Ah compatible with UL and CE
The battery uses a custom cellholder designed and manufactured by us, which ensures safety and reliability of the construction
The battery life cycle is estimated for 500-700 cycles (1C discharging to 2.8volt, 0.5C do 4.2volt charging). The life cycle can be extended by charging the battery to 90% and limiting the discharge to 90%
We use only new and original A grade cell for battery construction
We build all our batteries from scratch in our factory, using non-standard parts that we design and manufacture. We do not buy batteries from brokers who sell them at the lowest prices to attract buyers. We do not risk when it comes to our batteries and your safety!
We give 1 year warranty for each battery. Our batteries are designed to be easily repaired if needed. We will repair all emerging problems and most importantly – everything takes place in our factory – in Poland! You do not have to worry about returning parts to CHIN as it does for other companies. The fact that we offer low prices does not mean that we do not stand behind our products if problems arise. We document the entire sales history, after-sales services and repairs / warranty replacement. More information is available on the website "About us"
There is possibility to build battery from other cells than those proposed according to the customer's wishes – please contact us